If a Valencian from 2018 had been able to glance three years into the future, they wouldn't understand what's happening. Why is Fallas being held in September? And why is everyone in the parades wearing a facial mask? This person from our not-so-distant past would probably then find themselves very nervous. Like, "¡¿qué pasó?!"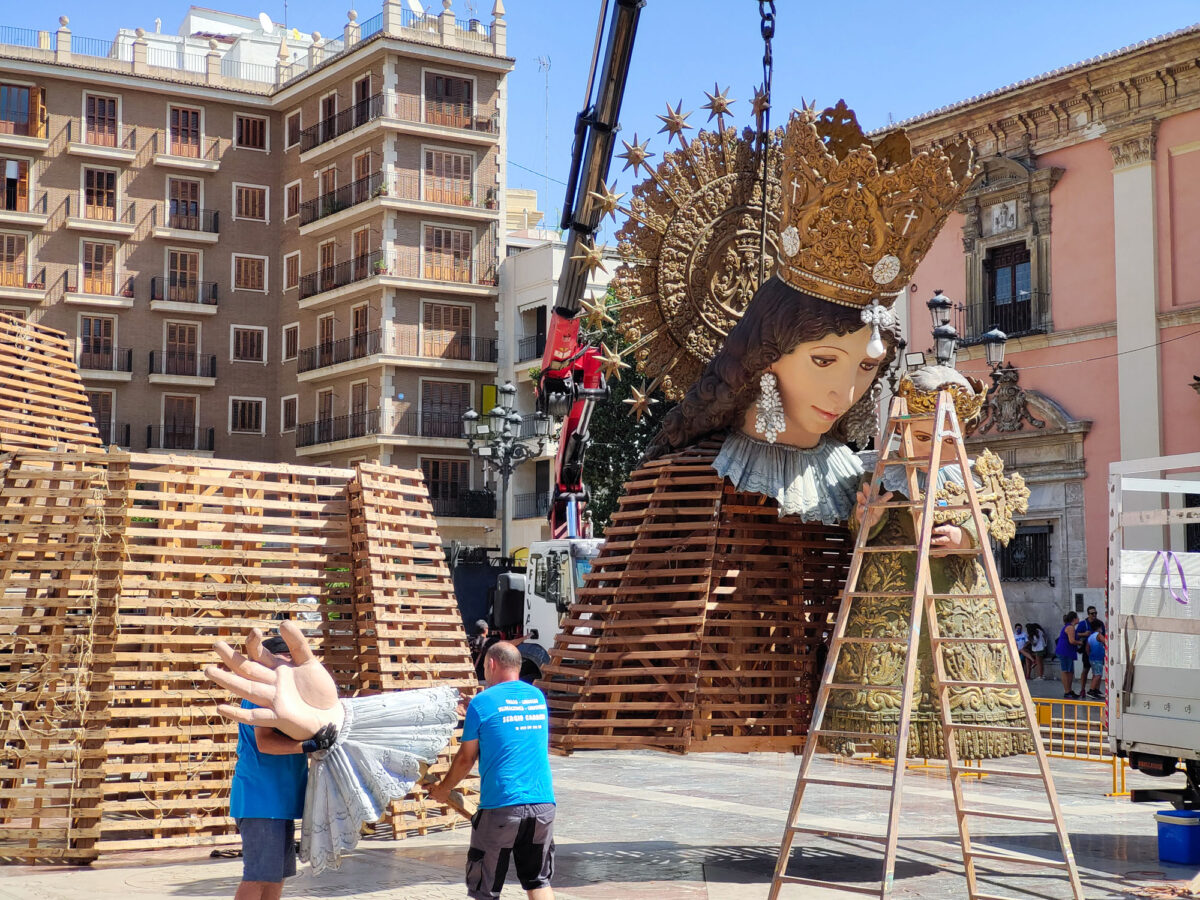 Masks weren't the only changes to the Ofrendà, during this most bizarre of Fallas festivals. They also changed the parade routes, and introduced an additional morning session during which falleros could deliver flowers to their lady. The parades were more spread out, as nobody was allowed to stand close to one another, including the marching bands.
La Ofrendà of 2021 in Masks
We were impressed with the overall organization of the Fallas festival during the pandemic. It felt like the city was trying its best to toe the line between safety, and allowing the citizens of Valencia a much-needed celebration. But during the Ofrendà, something was off.
They chose to block spectators entirely from watching the parade; not just stopping people from crossing the street, but often setting the barriers back entire blocks. We saw numerous citizens get into angry fights with police and private security personnel, because they just wanted to return home, but weren't allowed. I was shocked to watch one older man be turned away, even though he lived just on the other side of the parade route, and there was plenty of space for him to get across. They insisted he walk five blocks around. He was not pleased, and I can understand why.
Authorities closed the city down to everyone except the marchers, and even blocked off the Plaza de la Virgen entirely, so it was impossible to witness the flower deliveries to the virgin. It's easy to be fooled into thinking that Fallas is a festival for everyone, but the 2021 Ofrendà was a reminder that it's really just for a small minority of citizens — those who belong to casals. They can march in the parades, they can set up tents, they can shut down traffic, they can shoot off fireworks, and be as loud as they want. And, this year, outsiders weren't even allowed to watch.
But we're not deterred so easily, and were still able to follow the Ofrendà. We were determined to take as many pictures as possible, because of the parade's unique, once-in-a-lifetime nature. Just the idea of falleras in facial masks is bizarre enough to warrant a big photographic effort. Another unique aspect of this year's Ofrendà was the fact that different flowers had to be used — the flowers normally available in March had to be substituted for varieties that bloom in late summer.