Without its bulls, Spain wouldn't be hardly be recognizable. These animals are deeply ingrained in Spanish history and culture, and you see the influence everywhere, perhaps most notably in the giant silhouette figures which decorate many of the country's highways.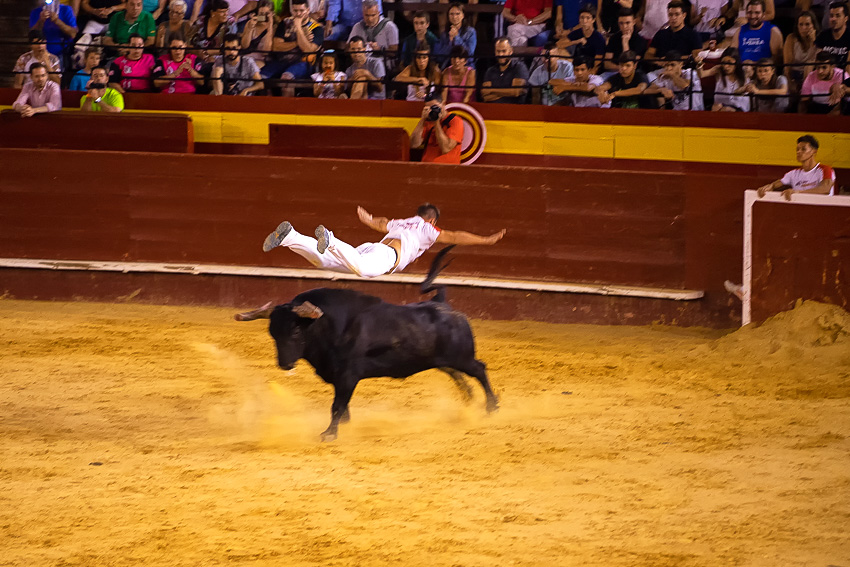 Of course, the idea of "bulls in Spain" instantly brings to mind the classic bullfight, which almost always ends in death for the creature… unless their bravery spurs a pardon from the audience. It's a bloody and gruesome event, but luckily there's also another event called the Recorte, or Bull Jumping. The participants, really better described as athletes, have the mission to collect as many points as possible, by dodging the charging bulls, kneeling, putting rings on their horns or even jumping completely over the animals.
It's a breathtakingly dangerous activity, and you can't help but feel your heart jump as you watch these youngsters risk their life for the most ludicrous type of glory. And there's no guarantee of safety… sadly someone from a town south of Valencia died last month during one of these events.
The bull and Recortador meet on equal terms inside the arena. The human enters the ring without any weapons, the only tool his or her body. I'd also like to note that the bull is not harmed during this event… not beaten, kicked, or stabbed, let alone killed.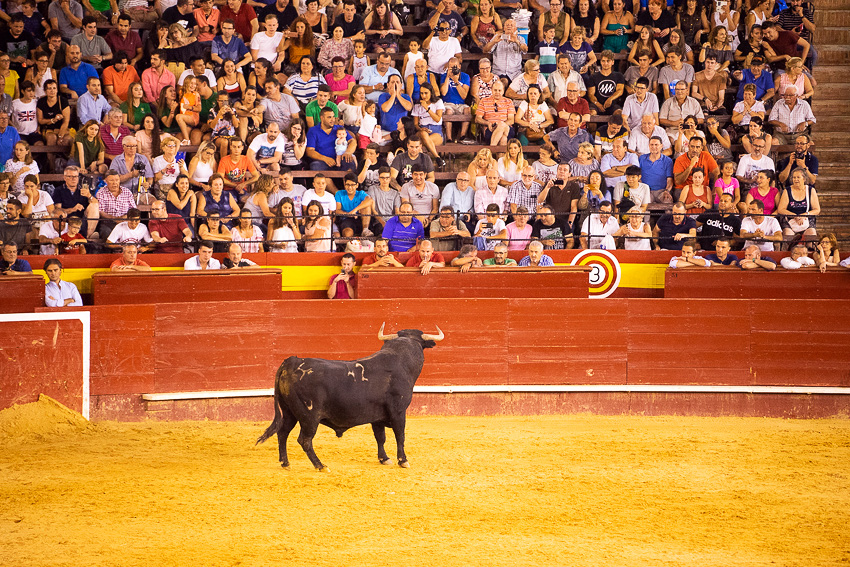 The risks these kids assume are incredible and accidents do happen. During the event we recently attended, we saw some terrifying stumbles from the Recortadores while the bulls charged. You can see this in the video.
On this night, there was also a group of Portuguese Bull Wrestlers. These guys go into the arena as a group and their purpose is to stop the bull with their bare hands. Personally, I didn't like this event at all, because bodies were flying, but amazingly nobody was seriously injured.
There is a great festive atmosphere within the Bullfight arena, and tickets are not expensive. The Recortes give you a chance to experience Spanish traditions and admire the beautiful Plaza de Toros in Valencia.
–Download Our Valencia Book Here
More Photos and a Video of the Recorte / Bull Jumping in Valencia