Calatrava's World Trade Center Transportation Hub (PATH) Station
The area around the new World Trade Center brings back so many memories. The twin towers had been one of my favorite parts of the city, and I remember visiting them a year before the terrorist attacks which took them down. The last time I saw the towers was actually just one week before their destruction — I was flying back to Germany, out of JFK. We revisited the site a couple years later, right when construction had begun, when the attack still felt raw and fresh. But now, 21 years had passed, and we were excited to return to Ground Zero, to see how the wounds were healing up.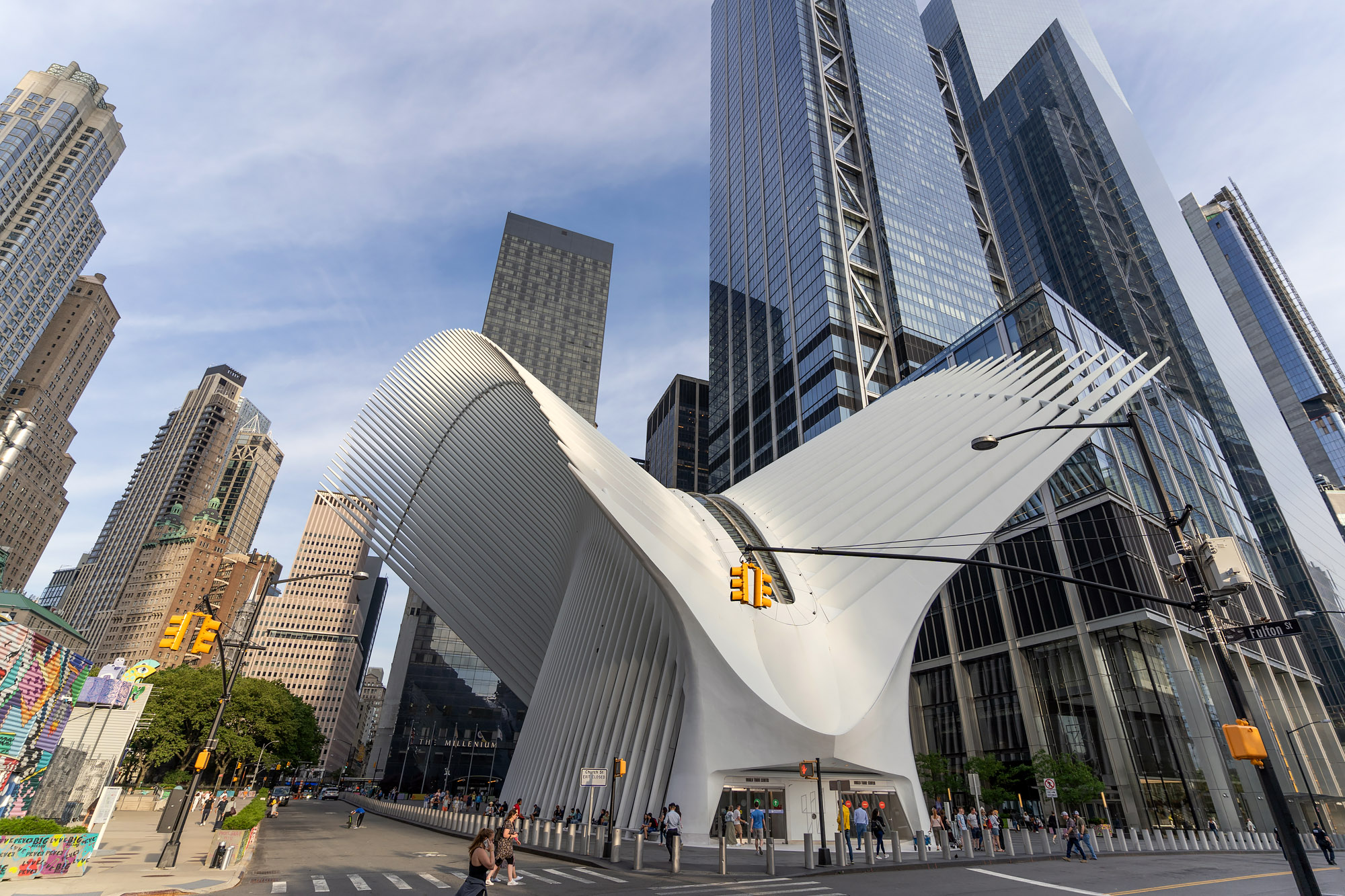 One of the main reasons to return to this site is the 9/11 memorial, which preserves and pays tribute to the ground upon which the towers used to stand. Unfortunately, we arrived too late in the afternoon, and the memorial was already closed. Instead, we decided to check out the new Calatrava building right across from it. Well not exactly "new" — it opened in March, 2016, but we hadn't seen it yet. Santiago Calatrava is actually from our adopted home town of Valencia, Spain, so we're quite familiar with his fearless, futuristic work.
The PATH Station Reminds Us of the L'Agora in Valencia
Upon arriving at Ground Zero, we didn't waste any time "wondering" which of these buildings was Calatrava's. The structures he dreams up are unlike anything else, and anyone with even a passing familiarity with his work would recognize the PATH station as quintessential Calatrava. It reminded us starkly of L'Agora in Valencia, and also somehow of a spiky oyster. The building is a little off-kilter when viewed from a distance, though that's was an intentional design choice. But it's not until you entering the station and take the escalators down into the belly of the oyster, that you can look up and fully appreciate the weird geometrical beauty of the design.
Overall we loved seeing the familiar forms and shapes of Valencia's City of Arts and Sciences in New York City. Just like all of his structures, the PATH station is a fun place to photograph inside and out. The one decoration element which felt a little off to me, was the gigantic US flags hanging from two balconies. I suppose given the location, it makes sense in some patriotic way, but I wonder how Calatrava feels about them — they don't exactly complement the aesthetics of his design.
More Photos of Calatrava's World Trade Center Transportation Hub: