NYC Views from Bar 54, Including the Chrysler Building and Times Square
This trip to New York City was our first big excursion since the beginning of the pandemic, and also the first time since we had been back to Manhattan in over five years. To celebrate, we splurged a bit and booked a room at the Hyatt Centric, right next to Times Square. Our view over the square was great, but the hotel's biggest flex was Bar 54; found near the top of the building, this is the highest open-air hotel rooftop bar in NYC.
View From the Bar 54 in NYC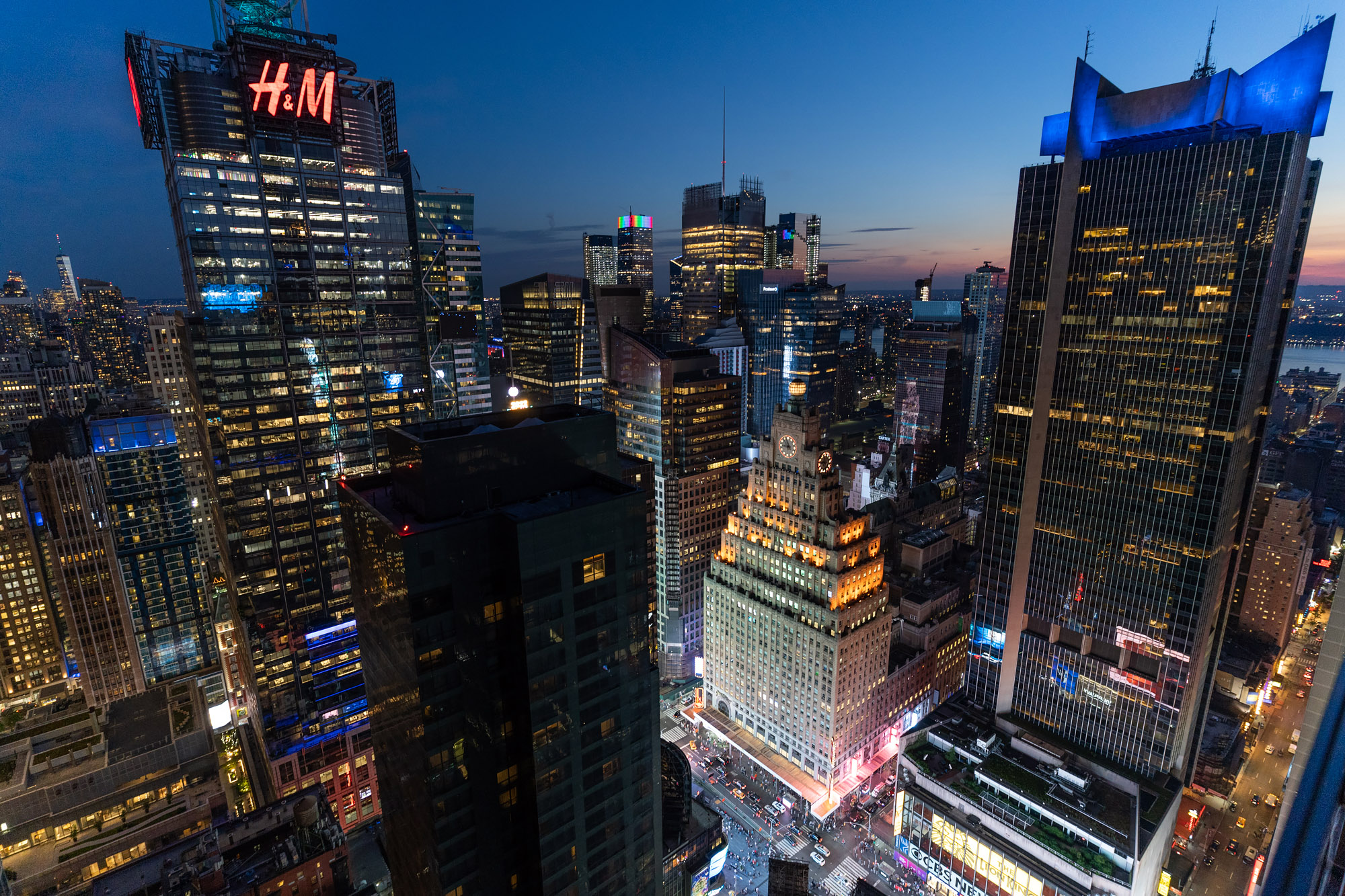 When you don't do New York City too often, you have to do it right, and we couldn't have been more pleased with our choice of hotel for this trip. So central, the second we stepped out of the elevator and into the lobby, we felt the energy of the city … and then you are at Times Square literally 60 seconds after leaving the hotel. There are more "chic" locations, for sure, but if you want pure N-Y-C, the Hyatt Centric is an incredible option.
We arrived early in the day, and stored our luggage at the hotel, then hopped on a subway train for Brooklyn. Kind of a strange choice to book a hotel in Times Square, only to head straight across a bridge, but we had friends to see. We did treat ourselves to a pastrami omelette for breakfast at Ben's Delicatessen before heading out. It was delicious, but we didn't even make it a block before starting to regret that choice.
Seeing our friends were great — two sets, one from Mike's high school and another from college — but it's probably safe to say you don't care about those reunions, so let's fast-forward to the evening. Back at Times Square, we finally check into our room and opened the curtains of our room to take in the view. And it wasn't until now that we felt like we had fully arrived in New York City. I don't even remember what floor we were on, but from such a height, the sheer amount of action and humanity you can see in this city is both overwhelming and life-affirming. I feel like we could live quite happily, with just this view (and maybe the occasional pastrami omelette).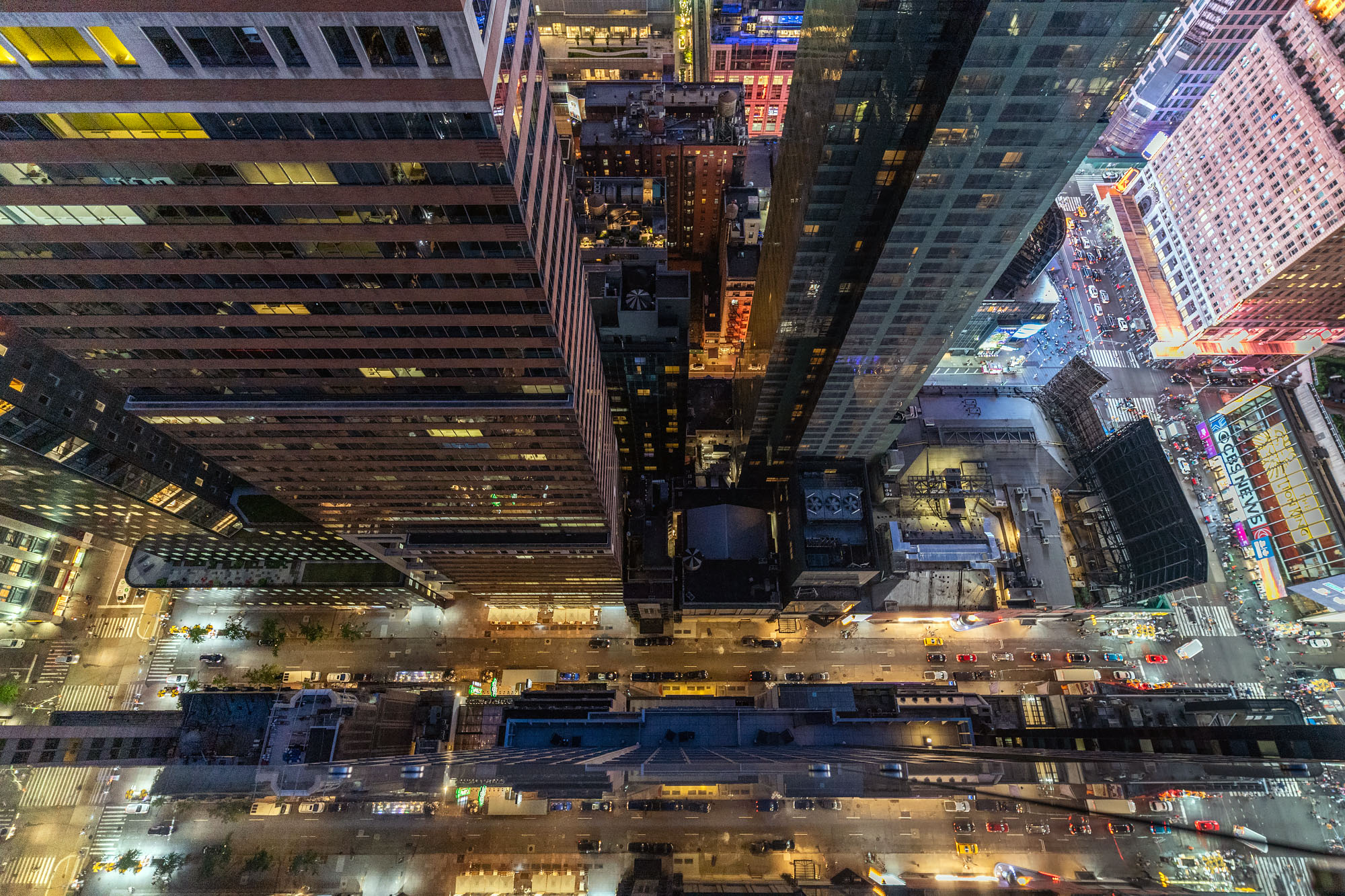 We went to bed exhausted, but awoke completely refreshed and ready for a huge day of sight-seeing. It was going to be our only "real" day in Manhattan, so we made the most of it, visiting the Vanderbilt One, Chinatown, the High Mile, Hudson Yards, and of course a lengthy stop at B&H Photo — my personal mecca. It was all a blast, but what we were really looking forward to were the sunset drinks that awaited us, back at our hotel's Bar 54. We got a table with an incredible view, and watched in awe as the sun's descent changed the scene minute-by-minute. It was the perfect ending to our very short visit to the city.
Just in case the place you're staying during your visit to New York City doesn't have amazing views, you can always make reservations at Bar 54 — even if you're not staying at the Hyatt Centric. The drinks aren't cheap, but they are amazing (and strong), and the view is worth a lot. Don't forget to ask for a table on their outdoor terrace if the weather permits.
More Photos Bar 54 Views Over New York City: